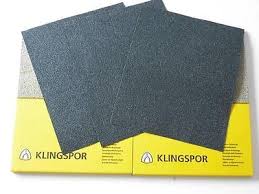 INDUSTRIAL QUALITY EMERY SHEETS IN HANDY, EASY TO USE PACKAGING.
ALUMINIUM OXIDE GRAIN BONDED TO STRONG YET EASY TO TEAR J-WEIGHT CLOTH BACKING.
DESIGNED FOR GENERAL MAINTENANCE WORK,  RUST REMOVAL, SANDING AND POLISHING.
IDEAL FOR THE AUTOMOTIVE INDUSTRY.
STANDARD SHEET SIZE - 230mm X 280mm X ....G.
GRITS - 40g,  60g,  80g,  100g,  120g,  150g,  280g.