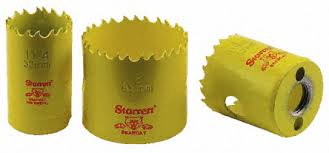 STARRETT BI-METAL HOLE SAWS USED WITH ARBOURS AND PILOT DRILL BITS.
MANUFACTURED FROM PREMIUM QUALITY MATERIALS AND USING BI-METAL CONSTUCTION FOR EXTREME STRENGHT AND SUPREME PERFORMANCE.
SUITABLE FOR FULL RANGE OF MATERIALS INCLUDING WOODS, MILD STEEL,  STAINLESS STEEL, NON-FERROUS METALS,  CAST IRON  AND  PLASTICS.
SIZE RANGE FROM - 14mm  TO  210mm.