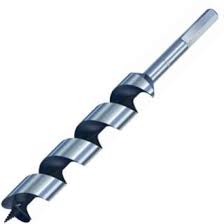 AUGER WOOD DRILL BITS ARE DESIGNED FOR ALL GENERAL WOODS.
WHICH OFFERS A SUPERIOR BORING PERFORMANCE.
THE SINGLE SPUR CUTTING EDGE SCRIBES THE CIRCUMFERENCE OF THE HOLE FOR A SMOOTHER FINISH.
THE HEXAGON SHANK PREVENTS SLIPPING IN A DRILL CHUCK.
SIZE RANGE - (5mm TO 40mm).
LENTH RANGE - (150mm TO 400mm).