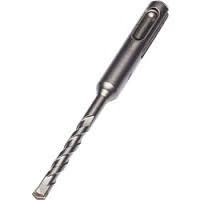 FIRST - SDS PLUS DRILL BITS ARE USE MORE ON  MID TO HIGH RANGE DRILLS.
SDS PLUS DRILL BITS ARE ONLY TO BE USED ON SDS PLUS MACHINES WITH AN SDS PLUS QUICK RELEASE CHUCK.
AND - SDS MAX DRILL BITS ARE USED GENERALLY ON LARGE AND MORE POWERFUL MACHINES.
AGAIN THE SDS MAX DRILL BIT CAN ONLY BE USED IN A SDS MAX MACHINE.
BOTH OF THESE DRILL BIT PROVIDE EXCELLENT DRILLING PERFORMANCE.
IDEAL FOR  MASONRY,  CONCRETE  AND BRICK.