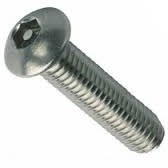 METRIC      DIN N/A      ISO 7380      BS N/A
ANTI-VANDAL BUTTONS SCREWS ARE MEASURED FROM UNDER THE HEAD.
GRADE      A2 = 304      STAINLESS STEEL.
HEX PIN IS A STARDARD ALAN KEY HEAD BUT WITH A PIN.
YOU CAN ALSO GET TORX PIN OR TORX PLAIN.
TORX PIN WHICH HAS 6 LOBES AND THE ANTI-VANDAL PIN.
PLAIN TORX WHICH JUST HAS THE 6 LOBES WITHOUT THE PIN.
THE HEX PIN NEEDS AN ANTI-VANDAL ALAN-KEY OR BIT TO SUIT.
THE TORX PIN NEEDS AN STAR SHAPED ANTI-VANDAL BIT TO SUIT.