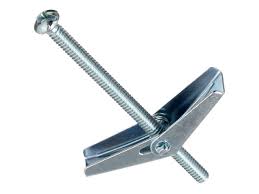 METRIC      DIN N/A      ISO N/A      BS N/A
SPRING TOGGLES ARE DESIGNED TO BE USED ON PLASTERBOARD, BY DRILLING A HOLE THEN PUSHING THE CLOSED TOGGLE THROUGH THE HOLE ONCE THROUGH THE TOGGLE SPRINGS OPEN BEHIND PLASTERBOARD GIVING YOU THAT EXTRA FIXING GRIP.
SPRING TOGGLES COME COMPLETE WITH SCREWS.
SPRING TOGGLES ARE AVAILABLE AS WINGS ONLY.
GRADE      STEEL      ZINC PLATED.
GRADE      STEEL      ZINC AND YELLOW PASSIVATED.