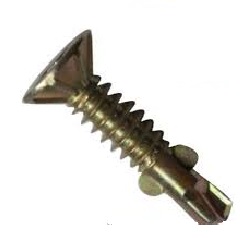 METRIC      DIN N/A      ISO N/A      BS N/A
WINGED SELF-DRILLERS ARE DESIGNED TOO -
THE DRILL POINT DRILLS THE TIMBER, AS THE WINGS COUNTER BORE THE HOLE LARGER THAN THE THREAD DIAMETER.
WITH THE HOLE BEING LARGER THE THREAD WILL NOT ENGAGE INTO THE TIMBER.
AFTER
THE
SELF-DRILLERS
POINT
DRILLS
THROUGH
THE
METAL,
THE
WINGS
BREAK
OFF
ON
CONTACT
WITH
THE
METAL.
THE THREAD CUTTING FEATURE ON THE SHANK CUTS A MATING THREAD IN THE METAL AND THE THREAD CONTINUES TO ENGAGE. THE HEAD THEN CLAMPS DOWN FIRMLY TOGETHER.