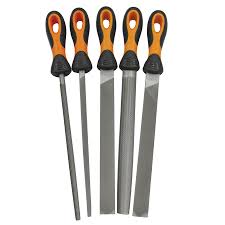 THERE ARE MANY DIFFERENT TYPES OF HAND FILES AND BRANDS FOR MANY DIFFERENT APPLICATIONS.
SMOOTH CUT :-  APPROX  62 TEETH PER 25mm (FINE).
SECOND CUT :-  APPROX  36 TEETH PER 25mm (MEDIUM).
BASTARD CUT :-  APPROX  26 TEETH PER 25mm (COARSE).
FLAT FILES,  HALF ROUND FILES,  ROUND FILES,  SQUARE FILES, THREE SQUARE FILES,  NEEDLE FILES,  CHAINSAW FILES, RASPS.
THESE ARE JUST A FEW OF THE FILE RANGE AVAILABLE THERE ARE MANY MORE SPECIALIST FILES AVAILABLE.