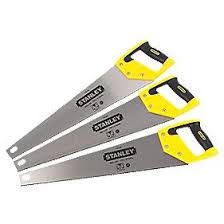 THERE ARE MANY DIFFERENT TYPES OF HAND SAWS AND BRANDS FOR MANY DIFFERENT APPLICATIONS.
STANDARD UNIVERSAL WOOD SAWS,   TENON SAWS,   DOVETAIL SAWS,   VENEER SAWS,   FOLDING SAWS,   COMPASS SAWS,   DRYWALL & PLASTERBOARD SAWS,   JAB SAWS,   PULL SAWS,   PAD SAWS,   MITRE SAWS,   CONCRETE & MASONRY SAWS,   COPING SAWS,   FRET SAWS,   HACKSAWS,   JUNIOR SAWS,   BOWSAWS.
THESE ARE JUST A FEW OF THE SAW RANGE AVAILABLE THERE ARE MANY MORE SPECIALIST SAWS AVAILABLE.
ALSO ALL THE REPLACEMENT BLADES TO SUIT.