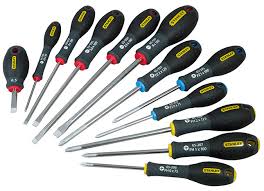 THERE ARE MANY DIFFERENT TYPES OF HAND SCREWDRIVERS AND BRANDS FOR MANY DIFFERENT APPLICATIONS.
THE MAIN THREE HEADS ARE   POZI,   PHILLIPS,  SLOTTED.
WHICH COME IN ALL DIFFERENT LENTHS AND DIFFERENT THICKNESSES OF HEAD STYLES.
STANDARD UNIVERSAL SCREWDRIVERS,   INSULATED SCREWDRIVERS,   SECURITY SCREWDRIVERS,   NUT DRIVER,   RATCHET DRIVERS,   PUMP DRIVER,   TORQUE DRIVER,   MAINS TESTER,   PRECISION MICRO DRIVERS,   FLEXIBLE DRIVERS.
THESE ARE JUST A FEW OF THE SCREWDRIVER RANGE AVAILABLE THERE ARE MANY MORE SPECIALIST DRIVERS AVAILABLE.