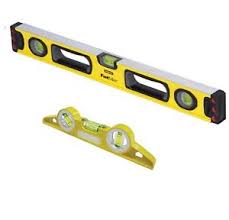 THERE ARE MANY DIFFERENT TYPES OF SPIRIT LEVELS AND BRANDS FOR MANY DIFFERENT APPLICATIONS.
COME IN VARIOUS LENTHS AND SIZES.
TRADITIONAL BRICKIES LEVELS,   GIRDER LEVELS,   ELECTEONIC LEVELS,   LINE & POST LEVELS,   TORPEDO & BOAT LEVELS,   WATER LEVELS,   ANGLE LEVELS,   LASER LEVELS.
THESE ARE JUST A FEW OF THE SPIRIT LEVEL RANGE AVAILABLE THERE ARE MANY MORE SPECIALIST LEVELS AVAILABLE.