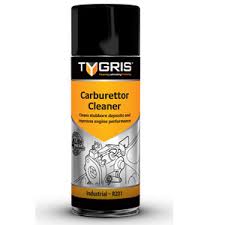 CARBURETTOR CLEANER R201 (400ML).

CLEANS STUBBORN DEPOSITS AND IMPROVES ENGINE PERFORMANCE.

TYGRIS R201 IS A STRONG SOLVENT BASED CLEANER USED FOR THE REMOVAL OF OIL, GREASE AND STUBBORN GUM DEPOSITS FROM CARBURETTORS AND INJECTION SYSTEMS. SUITABLE ALSO FOR CLEANING BRAKE PARTS AND AUTOMATIC CHOKES WITHOUT DISMANTLING IN ORDER TO PREVENT STALLING AND TO SMOOTH OUT ROUGH IDLING.

STRONG SOLVENT FOR STUBBORN DEPOSITS.
DISSOLVES GREASE AND OIL.
HELPS TO RESTORE ENGINE PERFORMANCE.
REMOVES COMBUSTION DEPOSITS FROM NAIL GUN MECHANISMS.
SAFE FOR USE WITH CATALYTIC CONVERTORS AND OXYGEN SENSORS.