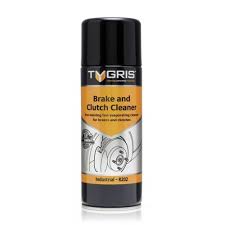 BRAKE AND CLUTCH CLEANER R202 (400ml).

NON-STAINING FAST EVAPORATING CLEANER FOR BRAKES AND CLUTCHES.

TYGRIS R202 IS A POWERFUL CLEANING FLUID USED TO REMOVE OIL, GREASE, DIRT AND DUST FROM BRAKES AND CLUTCHES, AIDING IN THE ELIMINATION OF BRAKE SQUEAL AND CLUTCH SLIP CAUSED BY GLAZING AND CONTAMINATION. CAN BE USED ON MANY OTHER SURFACES AS A POWERFUL CLEANING AGENT.

COLOURLESS - NON-STAINING.
FAST EVAPORATING SOLVENTS.
EFFECTIVE AGAINST GREASE - BRAKE FLUID - BRAKE AND CLUTCH DUST.
CAN BE USED TO REMOVE TAR SPOTS FROM SOME SURFACES.
ELIMINATES BRAKE SQUEAL AND CLUTCH SLIP.