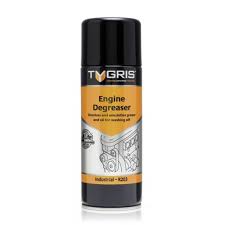 ENGINE DEGREASER R203 (400ml).

DISSOLVES AND EMULSIFIES GREASE AND OIL FOR WASHING OFF.
TYGRIS R203 IS A POWERFUL, HEAVY DUTY EMULSIFIABLE SOLVENT DEGREASER AND DE-WAXER WHICH SIMPLY SPRAYS ON AND WASHES OFF, QUICKLY REMOVING OIL, GREASE AND TAR DEPOSITS FROM ENGINES AND OTHER SURFACES.

USE ON ANY METALLIC SURFACE.
REMOVES GREASE TAR STAINS OIL BITUMEN WAXES ETC.
DISSOLVES AND EMULSIFIES FOR EASY REMOVAL.
CAN BE USED ON MOST PLASTIC AND PAINTED SURFACES.
SUITABLE FOR SPOT REMOVAL ON CONCRETE.