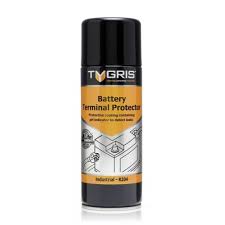 BATTERY TERMINAL PROTECTOR R204 (400ml).

PROTECTIVE COATING CONTAINING PH INDICATOR TO DETECT LEAKS.

TYGRIS R204 IS AN EASILY APPLIED FINE FILM SPRAY WHICH PROTECTS BATTERY TERMINALS BY SEALING THEM FROM AIR AND MOISTURE, PROLONGING BATTERY LIFE AND INCREASING ITS EFFICIENCY. CORROSIVE DEPOSITS ARE PREVENTED FROM BUILDING UP AND THE COATING CONTAINS A PH INDICATOR TO DETECT THE INCIDENCE OF LEAKS.

EASILY APPLIED SPRAY.
PROTECTS BATTERY TERMINALS FROM DETERIORATION.
PROLONGS BATTERY LIFE.
INCREASES STARTING EFFICIENCY.
PH INDICATOR DYE DETECTS BATTERY ACID LEAKAGE AND TURNS FROM ORANGE TO RED.
DRIES TO A THICK NON-SLUMPING GREASE.
WATER REPELLENT.