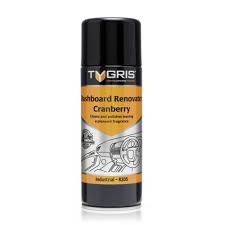 DASHBOARD RENOVATOR - CRANBERRY R205 (400ml).

CLEANS AND POLISHES LEAVING A PLEASANT FRAGRANCE.

TYGRIS R205 IS A LIGHT DUTY DASHBOARD RENOVATOR AND IS A PLEASANTLY FRAGRANCED CLEANER POLISH FOR INTERNAL PLASTICS AND TRIMS IN AUTOMOTIVE APPLICATIONS. IT CLEANS AND SHINES DASHBOARDS, FASCIAS AND OTHER INTERIOR PANELS RESTORING TO ORIGINAL APPEARANCE WITHOUT THENEED FOR MANUAL BUFFING. IT IS FAST ACTING WITH NEARLY INSTANTANEOUS EVAPORATION.

SILICONE BASED FOR GOOD CLEANING AND FINISH.
EASY TO USE - NO BUFFING REQUIRED.
RESTORES ORIGINAL APPEARANCE.
FAST ACTING AND EVAPORATION.
PLEASANT FRAGRANCE.