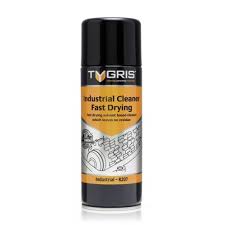 INDUSTRIAL CLEANER - FAST DRYING R207 (400ml).

FAST DRYING SOLVENT BASED CLEANER WHICH LEAVES NO RESIDUE.

TYGRIS R207 IS A FAST DRYING INDUSTRIAL CLEANER WHICH IS USED TO BREAK DOWN GREASE, DIRT, OIL AND OTHER WORKSHOP CONTAMINANTS QUICKLY AND EASILY WITHOUT THE NEED OF SUBSEQUENT RINSING, SAVING TIME AND MAINTAINING A CLEAN ENVIRONMENT.

POWERFUL SOLVENT CLEANING.
BREAKS DOWN WORKSHOP CONTAMINANTS QUICKLY.
SOLVENT EVAPORATES QUICKLY.
LEAVING A CLEAN SURFACE.
NON-CHLORINATED.
NO NEED FOR RINSING - LEAVES NO RESIDUE.