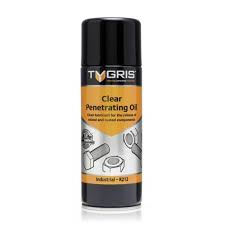 CLEAR PENETRATING OIL R212 (400ML).

CLEAN LUBRICANT FOR THE RELEASE OF SEIZED AND RUSTED COMPONENTS.

TYGRIS R212 IS A CLEAR LOW-VISCOSITY OIL BASED PRODUCT USED TO AID THE REMOVAL AND FREEING OF SEIZED NUTS AND BOLTS, HINGES, LOCKS, TOOLS AND FITTINGS WITH A FAST PENETRATING CAPILLARY ACTION. LEAVES A CLEAR PROTECTIVE FILM TO GUARD AGAINST FURTHER CORROSION.

LOW VISCOSITY FOR MAXIMUM PENETRATION.

EASY TO APPLY AND WORKS QUICKLY.

LEAVES A PROTECTIVE FILM AGAINST CORROSION.

ALSO SUITABLE FOR LIGHT LUBRICATION DUTIES.

DE-WATERING CAPABILITY.