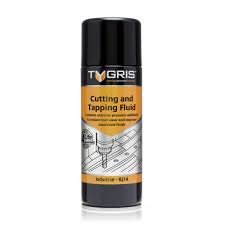 CUTTING AND TAPPING FLUID R214 (400ml).

CONTAINS EXTREME PRESSURE ADDITIVES TO REDUCE TOOL WEAR AND IMPROVE MACHINED FINISH.
TYGRIS R214 IS A READY TO USE CUTTING AND TAPPING FLUID SPECIALLY FORMULATED TO IMPROVE TOOL PERFORMANCE AND EXTEND TOOL LIFE. IT CONTAINS ADDITIVES TO PREVENT PITTING, GALLING AND METAL SEIZURE AND IS SUITABLE FOR USE ON HARD TO WORK METALS INCLUDING STAINLESS STEEL, TITANIUM, ALUMINIUM AND TOOL STEEL.


FOR CUTTING AND TAPPING - REAMING AND TURNING.
EXTREME PRESSURE ADDITIVES FOR DIFFICULT MATERIALS.
HIGH PRESSURE FOAMING DISCHARGE TO AID PENETRATION.
PROLONGS TOOL LIFE AND IMPROVES MACHINED FINISH.
REDUCES HEAT BUILD UP.
SUITABLE FOR USE ON ALL METALS.
INCORPORATES CORROSION INHIBITORS.