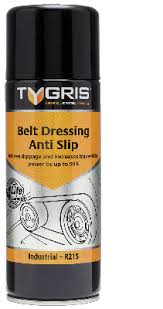 BELT DRESSING ANTI SLIP R215 (400ml).

REDUCES SLIPPAGE AND INCREASES TRANSMITTED POWER BY UP TO 50%.
TYGRIS R215 IS A BELT DRESSING WHICH EFFECTIVELY BOOSTS THE PERFORMANCE OF FLAT AND ROUND DRIVE BELTS BY REDUCING SLIPPAGE, THEREBY EXTENDING BELT LIFE, REDUCING ENERGY NEEDS AND THE NOISE ASSOCIATED WITH SLIPPING BELTS. HELPS IN THE MANAGEMENT OF PRODUCTION COSTS AND REDUCES ENVIRONMENTAL IMPACT.

HIGHLY TACKY PRODUCT - EFFECTIVELY REDUCES SLIPPAGE.
SUITABLE FOR ALL DRIVE BELTS.
INCREASES BELT LIFE.
BOOSTS TRANSMITTED POWER BY UP TO 50%.
HELPS IN THE REDUCTION OF ENERGY COSTS.
HIGH ADHESION PREVENTS THROW OFF.
RESISTANT TO OXIDISATION.
EASILY REMOVED.
TEMP. UP TO 130°C.