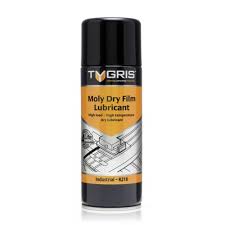 MOLY DRY FILM LUBRICANT R218 (400ml).

HIGH LOAD - HIGH TEMPERATURE DRY LUBRICANT.
TYGRIS R218 IS A MOLYBDENUM DISULPHIDE BASED LUBRICANT FOR USE WHERE CONVENTIONAL WET OILS WOULD BE UNDESIRABLE. PARTICULARLY SUITABLE FOR THE ASSEMBLY AND RUNNING-IN OF GEARS, BEARINGS, SPINDLES AND VALVES, IT IS EFFECTIVE FOR USE WHERE HIGH TEMPERATURES OCCUR, DRYING TO A TOUGH MATT BLACK HIGH SLIP COATING.

DRY LUBRICANT DOES NOT ATTRACT DIRT.
DURABLE COATING.
OUTSTANDING ADHESION.
EXTENDED SERVICE LIFE.
WITHSTANDS HIGH LOADS.
WORKING TEMPERATURE TO AT LEAST 350°C.
WATER AND CHEMICAL RESISTANT.
ANTI STATIC PROPERTIES.