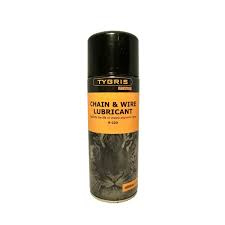 CHAIN & WIRE LUBRICANT R220 (400ML).

ANTI-FLING LUBRICANT REINFORCED WITH MOLYBDENUM DISULPHIDE.
TYGRIS R220 IS A HEAVY DUTY, MOLYBDENUM DISULPHIDE REINFORCED LUBRICANT WHICH PENETRATES DEEPLY INTO DRIVE CHAINS AND WIRE ROPES TO GIVE LONG LASTING LUBRICATION, PREVENTING CORROSION, WEAR AND CHAIN ELONGATION. IT GIVES OUTSTANDING PERFORMANCE UNDER EXTREME LOAD AND IS RESISTANT TO FLING OFF.

USE ON CHAIN BLOCKS - DRIVE CHAINS - FORK LIFT CHAINS AND WIRE ROPES.
EXTREME PRESSURE ADDITIVES FOR HEAVY LOADS.
EXCELLENT LUBRICATION PROPERTIES,
RESISTANT TO FLINGING OFF,
PENETRATES DEEPLY.
ONLY A THIN FILM IS LEFT ON THE SURFACE FOR CORROSION PREVENTION.
HIGH RESISTANCE TO WASH OFF.