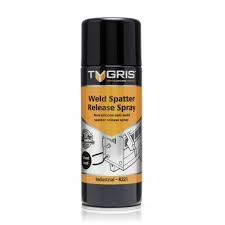 WELD SPATTER RELEASE SPRAY (SOLVENT BASED) R221(400ml).

NON-SILICONE WELD SPATTER RELEASE SPRAY.

TYGRIS R221 IS A SPECIAL NON-SILICONE FORMULATION IDEAL FOR USE ON ALL TYPES OF WELDING EQUIPMENT TO PREVENT THE ADHESION OF WELDING SPATTER. IT CAN BE APPLIED TO WORKPIECES, NOZZLES, SHROUDS, JIGS AND TOOLS AND ENABLES FREE GAS FLOW IN INERT GAS WELDING.


NON-SILICONE - CAN BE USED WITH PRODUCTS THAT REQUIRE FINISHING.
RAPID DRYING.
PREVENTS ADHESION - SPATTER EASILY REMOVED.
COLOURLESS - NON-STAINING.
DOES NOT GUM UP WHEN SUBJECT TO HEAT.
NON-FLAMMABLE FOR MAXIMUM SAFETY.