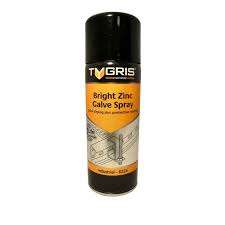 BRIGHT ZINC GALVE SPRAY R224 (400ml).

QUICK DRYING ZINC PROTECTIVE COATING.
TYGRIS R224 IS A BRIGHT ZINC AND ALUMINIUM POWDER BASED SPRAY USED FOR THE COSMETIC FINISHING AND PROTECTION OF PREVIOUSLY GALVANISED SURFACES WHERE THE COMPONENT HAS BEEN CUT OR WELDED, THEREBY EXPOSING METAL TO THE AIR. ZINC IS A SACRIFICIAL METAL AND WILL PREVENT OXIDISATION AND CORROSION. RESINS IN THE COATING CAUSE IT TO BOND FIRMLY TO THE SUBSTRATE.

ZINC CONTENT ASSISTS IN CORROSION PREVENTION.
RESISTANT TO SALT SPRAY AND WEATHERING.
EXCELLENT HEAT RESISTANCE.
ALUMINIUM POWDER GIVES A BRIGHTER FINISH TO HELP BLEND WITH EXISTING COATINGS.
CAN BE USED ON PREVIOUSLY COATED SURFACES
HIGH PURITY POWDERS.
EXCELLENT ADHESION AND QUICK DRYING.
150°C CONTINUOUS - 400°C INTERMITTENT.