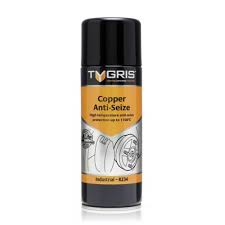 COPPER ANTI-SEIZE R234 (400ml).

HIGH TEMPERATURE ANTI-SEIZE PROTECTION UP TO 1100°C.

TYGRIS R234 IS AN ANTI-SIEZE WHICH GIVES OUTSTANDING OVERALL METAL PROTECTION AGAINST HEAT, RUST, SEIZURE AND CORROSION. RESISTANCE TO WATER AND ACIDS IS HIGH AND IT WILL NOT BURN OFF UNDER EXTREME STRESS. FOR USE ON THREADED COMPONENTS, PINS, VALVE STEMS IN A RANGE OF MATERIALS INCLUDING AUSTENITIC STAINLESS STEEL. USED ON BRAKE CALLIPERS AND THE BACK OF BRAKE PADS IT WILL HELP ELIMINATE BRAKE SQUEAL.


EFFECTIVE UP TO 1100°C.
WATER AND ACID RESISTANT.
USE ON A WIDE RANGE OF METALS.
PREVENTS SEIZURE OF THREADED PARTS.
WILL NOT BURN OR WASH OFF.
ELIMINATES BRAKE SQUEAL.
ASSISTS IN ASSEMBLY AND DISASSEMBLY OF COMPONENTS.