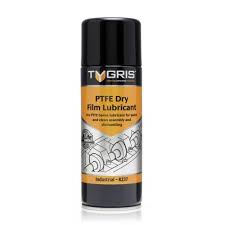 PTFE DRY FILM LUBRICANT R237 (400ml).

DRY PTFE BASED LUBRICANT FOR QUICK AND CLEAN ASSEMBLY AND DISMANTLING.

TYGRIS R237 IS AN EFFECTIVE DRY FILM NON-STAINING LUBRICANT FOR USE WHERE WET OILS WOULD BE UNDESIRABLE. FOR USE IN THE ASSEMBLY OF METAL COMPONENTS AND THE LUBRICATION OF MACHINE SLIDES, CAMS AND CUTTING SHEARS IN ENGINEERING APPLICATIONS.

PTFE DRY FILM FOR VERY LOW FRICTION (PTFE HAS THE LOWEST FRICTION OF ANY KNOWN SOLID).
DURABLE COATING.
NON-TOXIC - COMPLETELY INERT.
ANTI-STATIC.
HIGH WORKING TEMPERATURE UP TO 275°C.
WITHSTANDS LOW TEMPERATURES.
WATER AND CHEMICAL RESISTANT.
RAPID DRYING.
NON-GREASY DRY FILM - DOES NOT ATTRACT DIRT.