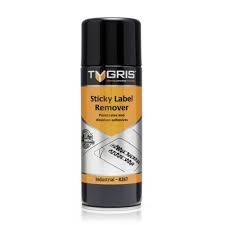 STICKY LABEL REMOVER R267 (400ml).

PENETRATES AND DISSOLVES ADHESIVES.

TYGRIS R267 IS A SOLVENT BASED BLEND FOR THE REMOVAL OF STICKY LABELS FROM MOST SUBSTRATES INCLUDING MANY PLASTICS, METALS, RUBBERS, PAINTED SURFACES AND OTHER IMPERVIOUS MATERIALS, LEAVING NO RESIDUES OR MARKINGS.

DISSOLVES GUMS AND ADHESIVES FROM SELF ADHESIVE LABELS.

SUITABLE FOR MOST SURFACES.

LEAVES NO RESIDUES.

HIGH PENETRATING POWER.