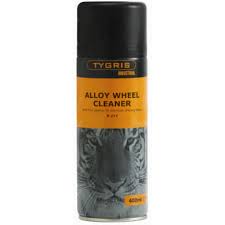 ALLOY WHEEL CLEANER R272 (400ml).

ACID-FREE CLEANER USED TO MAINTAIN SHINING ALLOY WHEELS.

TYGRIS R272 IS AN ALKALI BASED WHEEL CLEANER WHICH EFFECTIVELY REMOVES BRAKE DUST AND STUBBON DIRT WITHOUT DAMAGING COATINGS, LACQUERS OR TYRE RUBBER. EASILY APPLIED IN A AEROSOL FORM AND THEN WASHED OFF. ALLOY WHEEL MAINTENACE IS BOTH STRAIGHTFORWARD AND REWARDING.

EASILY APPLIED IN FOAM FORM.
BREAKS DOWN DIRT EFFECTIVELY.
DOSE NOT ATTACK WHEEL FINISH.
WASHES OFF WITHOUT LEAVING A RESIDUE.