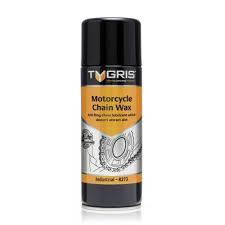 MOTORCYCLE CHAIN WAX R273 (400ml).

ANTI-FLING CHAIN LUBRICANT WHICH DOESN'T ATTRACT DIRT.

TYGRIS R273 IS A HIGH PERFORMANCE LUBRICANT PARTICULARLY SUITED FOR MOTORCYCLE CHAINS. IT PROTECTS AGAINST CORROSION AND WEAR AND ITS TENACIOUS FORMULATION FORMS A WATER RESISTANT FILM WHICH IS EASY TO APPLY AND GIVES LONG-LASTING PROTECTION. THE LUBRICANT IS SPRAYED IN A SEMI-LIQUID FORM,THEREBY PENETRATING THE CHAIN LINKS AND SUBSEQUENTLY THICKENS TO A WAXY CONSISTENCY WHICH IS NOT STICKY. THIS ENSURES THAT ROAD DIRT DOES NOT ADHERE, REDUCING WEAR DRAMATICALLY WHEN COMPARED TO POLYMER CHAIN LUBRICANTS.

HIGHLY TENACIOUS-RESISTANT TO FLINGING OFF.

PROTECTS AGAINST RUST AND WEAR.

WATER RESISTANT.

PENETRATES EASILY THEN THICKENS.

RESISTANT TO ADHERENCE OF DIRT.