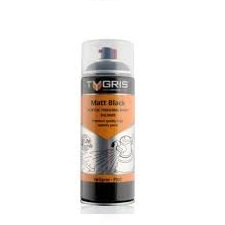 MATT BLACK PAINT - RAL9005 VARI-SPRAY P300 (400ml).

PREMIUM QUALITY HIGH OPACITY PAINT.

TYGRIS ACRYLIC-BASED TOP-COAT PAINTS AND PRIMERS CAN BE USED FOR A PROFESSIONAL FINISH ON MOST SUBSTRATES WITH EXCEPTIONAL EASE OF USE, RESULTING IN A HIGH QUALITY APPEARANCE.

ACRYLIC FORMULATION FOR GREATER FLEXIBILITY.

GIVES EXCELLENT ADHESION.

COMPATIBLE WITH MOST MATERIALS.

CAN BE APPLIED OVER PREVIOUSLY PAINTED SURFACES.

HIGH OPACITY.

LEAD FREE.

EXCELLENT UV STABILITY.