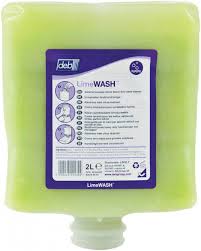 DEB LIME WASH IS GENTLE BUT EFFECTIVE HEAVY DUTY HAND CLEANSER, WITH ITS NATURAL CORNMEAL AND LIGHT LIME EXTRACTS IT MAKES AN IDEAL CLEANER FOR MOST INDUSTRIAL SOILINGS.
DEB LIME WASH ALSO CONTAINS MOISTURISER TO HELP LEAVE YOUR SKIN FEEL SOFTER AND SUPPLE AFTER USE.
SIZE -  2 ltr  OR  4 ltr.