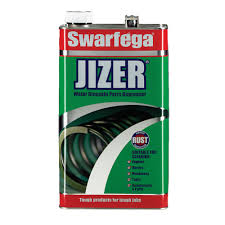 SWARFEGA JIZER IS A HIGH PERFORMANCE AND ECONOMICAL PARTS DEGREASER.
THIS CAN BE USED ON METAL, MOST PLASTICS AND PAINTED SURFACES TO QUICKLY AND EFFECTIVELY REMOVE,  OIL,  TAR, GREASE,  DIESEL,  CARBON,  BITUMEN  AND OIL BASED WAXES.
CONTAINS EMULSIFIERS SO THAT IT CAN BE COMPLETELY RINSED OFF WITH WATER.
SIZE -  5 ltr.