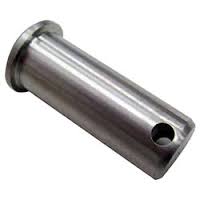 METRIC      DIN 1444B      ISO 02341B      BS N/A.      
CLEVIS PINS PROVIDING A SIMPLE AND EFFECTIVE METHOD OF CONNECTING DRIVES AND LINKAGES WHERE A CERTAIN AMOUNT OF ANGULAR ROTATION IS REQUIRED.
CLEVIS PINS DO NOT REQUIRE ANY SPECIAL TOOLS FOR ASSEMBLIE.
AVAILABLE IN -   METRIC  AND IMPERIAL.
AVAILABLE IN -   STEEL ZINC PLATED,  STAINLESS STEEL.