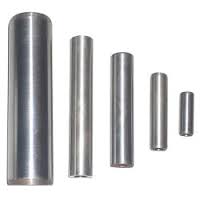 METRIC      DIN 6325      ISO 8734A      BS N/A
THE PARALLEL DOWEL PIN IS A GREAT METHOD OF LOCATING AND RETAINING TWO OR MORE COMPONENTS TOGETHER.
THE DOWELS CAN BE REUSED AS LONG AS THE HOLE IS EQUALLY AS ACCURATE AS THE PIN.
STANDARD DOWELS ARE HARDENED AND GROUND.

AVAILABLE  IN  -  MILD STEEL,  STAINLESS STEEL,  SILVER STEEL.
A FULL RANGE OF SIZES FROM  METRIC AND IMPERIAL ARE AVAILABLE.
ALSO AVAILABLE ARE -  EXTRACTABLE DOWELS.
A FULL RANGE OF SIZES HAVING ONE END TAPPED & THREADED WHICH ALLOWS THE DOWEL TO BE EXTRACTED OUT OF A BLIND HOLE.