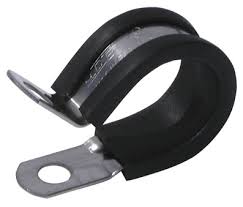 OUR HIGH QUALITY RUBBER LINED P-CLIPS ARE AVAILABLE IN TWO RANGES WITH 6mm AND 10mm BOLTS HOLES.
THEY PROVIDE A SECURE FIXING FOR PIPES AND CABLES, THE RUBBER LINING AROUND THE CLIP PROTECTS AGAINST WEAR AND DAMAGE.

STANDARD RANGE IS ZINC PLATED STEEL WITH TPE RUBBER.
ALSO AVAILABLE IN STAINLESS STEEL WITH TPE RUBBER.
WE ALSO DO AN ALL PLASTIC P-CLIPS.