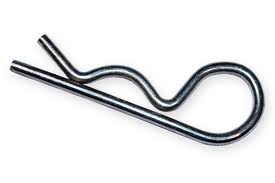 METRIC      DIN 11024      ISO N/A      BS N/A
R-CLIPS OR RETAINING PINS ARE USED ON A ROUND BAR, THE STRIGHT STEM IS PLACED THROUGH A HOLE IN THE BAR AND THE BEND THEN SITS ON TOP OF THE BAR.
SINGLE COIL R-CLIPS ARE THE MOST COMMON OF R-CLIPS AND SUITABLE FOR MOST APPLICATIONS.
THE DOUBLE COIL R-CLIPS IS USE MORE FOR DEMANDING USE, BUT NOT READY AVAILABLE AS THE SINGLE COIL R-CLIP.
STANDARD R-CLIPS ARE SPRING STEEL ZINC PLATED.
SOME SIZES MAY BE AVAILABLE IN STAINLESS STEEL.