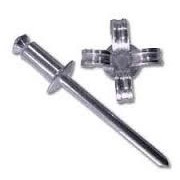 METRIC      DIN 7337      ISO N/A      BS N/A
THE MANDREL OF A PEEL RIVET IS CONSTRUCTED IN SUCH A WAY, THAT IT CUTS THE END OF THE RIVET BODY INTO FOUR (PETALS)  WHICH CLAMPS THE MATERIAL AND SPREADS THE LOAD OVER A WIDE AREA.
GRADE      ALUMINIUM      BODY.
GRADE      STEEL      MANDREL.
HEADS      DOME  AND  LARGE DOME.