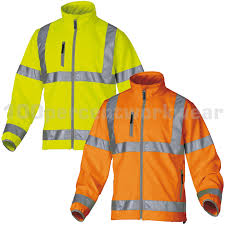 STANDARD HIGH-VISIBILITY JACKETS ARE YELLOW OR ORANGE WITH SILVER REFLECTIVE TAPE.
OTHER 2 TONE JACKETS ARE AVAILABLE AS WELL AS BOMBER JACKETS & ANORAKS.
AVAILABLE IN ALL SIZES.
WE ALSO OFFER A PRINTING SERVICE FOR THINGS LIKE LOGO OR JOB TITLE TO A WIDE RANGE OF GARMENTS INCLUDING, POLO SHIRTS, SWEATSHIRTS,  WAISTCOATS,  SAFETY HELMETS.