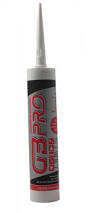 GB PRO ADHESIVES COLOUR: BLACK. WHITE. GREY. CLEAR.

A HIGH MODULUS SEALANT AND ADHESIVE. A TOTALLY NEUTRAL "HYBRID" SEALANT FOR USE IN AREAS REQUIRING A TOUGH ELASTIC RUBBER JOINT OR AS AN ADHESIVE WITH SUPERIOR BONDING STRENGTH. CONFORMS TO ISO11600-F&G-20HM.

FOR INTERIOR AND EXTERIOR APPLICATIONS IN ALL WEATHER CONDITIONS.
REMAINS PERMANENTLY FLEXIBLE.
CAN BE OVER-PAINTED WITH WATER-BASED PAINTS.
NON STAINING AND WILL NOT DISCOLOUR SURFACES (EXCELLENT FOR USE ON NATURAL STONE).
CONTAINS NO ISOCYANATES, SOLVENTS, SILICONE AND PHTHALATES.
RESISTANT TO UV RADIATION, WATER (INCLUDING SEAWATER), MOULD AND CHLORINE.
EXCELLENT ADHESION TO MOST SURFACES (EVEN MOIST SURFACES). WET ON WET APPLICATION.
NO ODOUR.
ANTI-PICK PROPERTIES (COLOURS ONLY).

APPLICATION:
A UNIVERSAL, WATERPROOF, CONSTRUCTION ADHESIVE AND SEALER FOR USE WITH STONE, CONCRETE, MIRRORS (WITH AN ACETONE RESISTANT BACKING), NATURAL STONE, MARBLE, GYPSUM BOARD, POLY-CARBONATES, POLYSTYRENE, PVC, MANY PLASTICS, CERAMICS, COPPER, LEAD, ZINC, ALUMINIUM, STAINLESS STEEL, WOOD AND GLASS. NOTE: THIS PRODUCT IS NOT RECOMMENDED FOR USE WITH EXPANSION JOINTS OR FOR INSTALLATIONS WHERE THE JOINTS ARE CONTINUALLY IMMERSED IN WATER. IF ALLOWED TO CURE IN DARK CONDITIONS OR LOW UV LIGHT THE PRODUCT MAY YELLOW.